19 Jun

The Top 3 WordPress Real Estate Themes

Whether you have setup a WordPress website for a blog, an ecommerce business, a directory listing, or any other type of website, a specialized and dedicated theme can greatly help you in making the most out of your website. With a specialized theme, you avail plenty of features necessary for a website in your niche; in addition to a perfect design and layout for your website.

Like any other industry, the same holds true for real estate websites as well. A good real estate theme will save you a lot of time and energy by offering many of the functionalities you're most likely to need for a real estate website. Moreover, it will feature an attractive design reflecting your industry, and, of course, will let you design your pages as you please.

Below are the top 3 WordPress real estate themes that have been handpicked for you after extensive research. These themes come with all the essential features that you might need for your real estate website, along with robust design and the ability to fully customize your pages according to your needs and preferences.
Real Homes Theme:
Real Homes offers a clean and robust design along with plenty of premium features, allowing you to establish a powerful online presence. The theme comes pre-equipped with Visual Composer and Slider Revolution, two handy plugins for designing and customizing your web pages. Real Homes theme also has several templates that you can choose from and customize according to your taste.
The fully responsive Real Homes theme offers plenty of powerful tools for your real estate website, such as an advanced search feature, simple and grid listings, custom widgets, Google Maps with property markers, properties comparison, and multiple gallery templates.
The theme also lets you easily integrate PayPal into your website, allowing you to set up a payment channel if you intend to offer any paid services on your website. Real Homes is translation ready, supports RTL, and is fully compatible with WPML.
Overall, it is an excellent theme that offers a perfect combination of robust design features and rich functionality.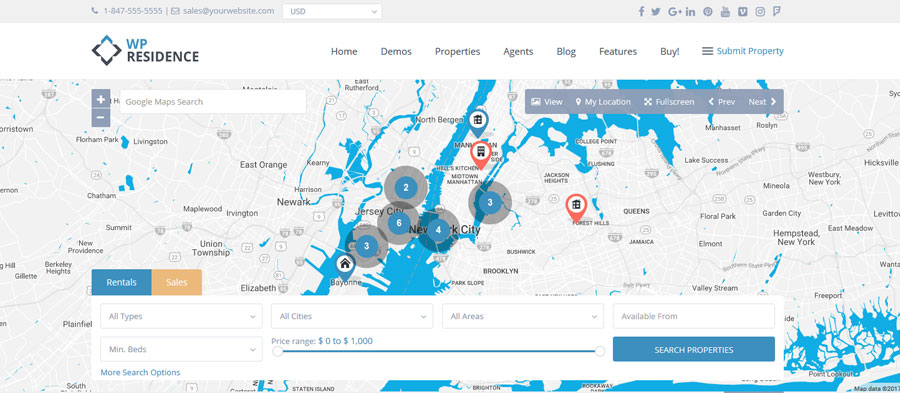 Residence Theme:
Residence is a premium WordPress real estate theme, power packed with dozens of features that your real estate website can benefit from. Along with the rich functionality, the theme also offers unmatchable levels of customization, allowing you to craft pixel-perfect pages for your website.
Residence theme comes packed with Visual Composer and Slider Revolution, two of the most popular plugins used for designing and customizing web pages. This fully responsive theme also lets you set up custom typography for your website in addition to custom colors. Moreover, the theme comes with 11 demo websites, enabling you to set up a fully functional website within minutes. There are several header options as well with more than 30 header styles. With all these powerful designing tools and capabilities, you can have absolutely any kind of layout that you can imagine.
In addition to the rich design features, Residence theme stands tall when it comes to industry-specific features as well. The theme offers a customizable advanced search system, a built-in mega menu, several listing styles, a powerful and convenient admin panel, and email management system. There are several options for monetizing your website as well. You can allow users to submit their properties by either subscribing to your emails, for a fee, or even for free if you choose so.
To cut a long story short, Residence is amongst the most adored WordPress real estate themes because of the unparalleled levels of customization and functionality that it offers.
Realia Theme:
Last but certainly not the least on our list is the Realia WordPress real estate theme. It is a minimalistic yet feature-rich theme that is perfect for both real estate websites and rental business websites. The theme is very easy to setup and you can have a robust real estate website in no time with this theme.
Realia is a minimalist theme that you can customize as per your taste; however, the developers of this theme have highly emphasized its functionality rather than the design and customization. As a result, the theme features some of the most powerful, hand-picked plugins and tools suitable for a real estate website.
Realia theme is equipped with advanced search filters, front end submission forms, and advanced Google Maps for displaying different properties. Realia theme is one of the most advanced real estate platforms and is constantly updated by the developers. The latest update brings several new features to the table such as support for mobile apps through REST API, plenty of developer and user documentation guides, several monetization options along with Wire and PayPal payment gateways, and auto updates for core plugins.
If you're more concerned with the functionality and performance of your real estate website rather than the design and aesthetics, the Residence theme is one of the best options available to you.
Wrapping Up:
No two themes are the same no matter which industry or niche they are related to. Some themes focus highly on the design and visual attraction of the website while others are more concerned with robust and powerful functionality. Still others offer a fine combination of both of these. Choosing a theme wisely is crucial for the success of your website and we do hope that this article will help you in making an informed decision while choosing a theme for your real estate website.